As much has been going on in the saga world of legendary Norse warrior Ragnar Lothbrok, his family, relatives, friends, allies and enemies as has been going on over here in real world. In Nuestra Casa, thank goodness, it's been art, scholarship, music and friends
But in Kattegatt, it was cutting out an enemy's lungs, the "Blood Eagle" in the title of last week's episode, while Jarl Borg still lived. If Borg wanted to get to Valhalla, he could not make a sound while this lengthy, excruciating death was in process. One has the sense hope that there were drugs involved here, to make his heroic sacrifice possible, for it was in every sense a ritual death, dedicated to Odin, even though it was carried out upon the man who betrayed Ragnar and tried to kill him, his family, and stole all his lands. When one of Borg's hands slips from the beam simulating an outstretched wing, Ragnar carefully replaces it, to make the sacrifice perfect.
One sensed that mass of bread or whatever it was brought to Jarl Borg in his prison by Ragnar's son, Bjorn, was not really bread, and the passionate haste with which Borg snatched it was more from relief than because he was famished. We've seen drugs involved in two ritual deaths already, the handmaid who volunteers to go with Eorl Haraldson on his funeral ship was both drunk and drugged, and the sacrifices at Uppsala were given a potion.
King Horik revealed himself the rat we know he is. Ragnar is skinning and gutting a rat -- evidently just for something to occupy his restless hands -- when King Horik arrives in his Hall. Horik coerces Siggy, whose choices of powerful men with whom to ally herself have a way of backfiring, to have sex with his son -- while he watches. He visits Jarl Borg in his cell, bringing him the skull of his dead wife and the mendacious assurance that Ragnar will rescind his Blood Eagle. When Hork enters Borg has been holding a sort-of pet rat. In both these sequences we know who the rat in the scene really is.
So lungs were lost last week, while Ragnar gains ships and fighting men because Lagertha has become Eorl in the place of her sadistic stupid insane husband. She brings Ragnar what he needs, including herself among the counted warriors for the invasion of Wessex. I personally believe she's doing this for the sake of her son Bjorn, not Ragnar, but Ragnar's manly self-regard doesn't consider this, seemingly. He's sure she still loves HIM that much.
In Wessex, the rescued Athelstan is King Ecbert's new and favored librarian-scribe. Athelstan suffers now from hallucinations, most of them most unpleasant. Nearly crucified to death by arrows he could be having post traumatic episodes -- this might have brought back the terrible scenes of the sacking of Lindisfarne where Ragnar captured him. Then, one does wonder if the hallucination are Upssala drug-induced, for back in season 1 when Ragnar was going to sacrifice Athelstan there, Floki gave him something psychotropic (on which it seems everyone there was tripping).
And there are two weddings! One in Wessex between King Ecbert's son, Ethelwulf -- who seems a good bloke -- and King Aelle's daughter, Judith -- who seems a nice enough girl -- and the other in Kattegatt -- Floki marries Helga, pregnant with his child. Floki's also pregnant with a non-previously perceived antagonism toward Ragnar. Like the universal trickster's dark side, as we see with Elegba, Loki or Iago, Floki's dark or twisted side is becoming dominant (and woo, has he imbibed in psyhotropic drugs over the years!).
In any case, one wedding looks like loads of fun and we know which of the two weddings does not look like any fun at all -- though the two principals are old enough, and seem to like each other well enough, which is much better than nothing. But the one that was not fun was for political and military alliance: not only to fight off viking incursion, but to carve up Mercia, a larger, neighboring kingdom. Certainly this alliance shall fare no better than the alliance among Ragnar, Borg and Horik has, shall it -- the ways of ambitious and powerful men being what they are, of whatever religion or land, bent as they are on betrayal and back-stabbing.
This week's episode, "Boneless", shows last week's Rat back-stabbing. It's one way to become king and stay king -- connive to divide your rival from his support network. King Horik's scope for this is far greater than poor Jarl Borg's ever was -- all he managed to do was suborn Ragnar's brother Rollo, and that, only for a time. Horik's playing Siggy, Floki -- and even it, seems, Lagertha.* Rollo, having learned his lessons (as well as having an historical destiny of his own in the offing) isn't playing the game though. Besides he knows that Horik has sexed Siggy. Rollo may have forgiven Siggy (they aren't married), but he's unlikely to forget it happened -- certainly no so far as to betray his brother Ragnar again.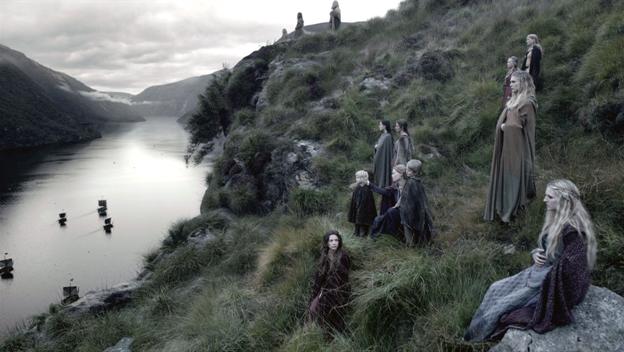 Shortly before the gathered invasion fleet sails out of the Kattegatt fjord, Aslaug has another baby, another boy. This one has legs that are withered and misshapen, probably due to the very difficult birth. In the end Ragar cannot kill / expose the boy anymore than Aslaug would, even though that's the regulation for imperfect babies. Ivar the Boneless. He too has a destiny.
A previously unknown character invades Ecbert's court, shortly before the viking fleet invades Wessex. This is the Princess Kwenthrith of Mercia, who, has not only killed her own brother in a civil war, but is Princess of the kingdom King Ecbert and King Aelle have agreed to divide up among them. The watchers are immediately on the team of Ecbert and Aelle to do this because for some reason the writers wants us to be. Not only have they made Kwenthrith a vegetarian, she's witchy, creepy and -- sexually insatiable. She talk talk talks of her appetites and experiences in public -- raped by her brother when she was twelve! A BAD WOMAN, unfit to rule a kingdom. As unlike Lagertha as you can get, Only one woman at a time, if any at all, can be allowed to be strong and wise and worthy of running things. I'm not believing in her character as presented to us. Hate this character, in a negative, not good, way. Such frackin' cliche, while extremely implausible in her milieu, at least to someone like me for whom this era is not an historical specialty.
Athelstan -- still having hallucinations -- even one about the horrible Kwenthrith -- mattered to everybody in this episode. Ragnar nearly wept with relief learning certainly that Athelstan is still alive. This is sort of curious since he was willing to sacrifice him at Uppsala, until told he didn't believe properly so couldn't be a proper sacrifice.
Bjorn didn't do much, besides fight training, continuing to be in lust love with the slave, Porunn and worrying about how he'll handle things in a battle.
This week's episode was much a set-up episode for this season's last two, in which surely there will be the battles that so many watch for (I'm not one of those -- I've seen how shield walls work now, and I appreciate knowing more now than before). Horik made sure there would be battles. The rat's son reveals himeself to be a creepy toad in his own right, not just as an obedient son doing as his father tells him.
Two more episodes to go for season 2.
With all those sons Ragnar Lothbrok has brought into the world, does the world really need him any longer? He's surely sown his seed adequately. How will all those boys manage with each other as they grow up and need lands, ships and all the rest?
Not that I want to see Ragnar go -- he's a terrific character. We just haven't seen him being himself much lately -- more as others around him react to the fact of him. All this could go so many ways. We are content knowing there is a season three already given the go light, so there will be more.
*
It's possible that Ragnar is cognizant of what Horik's doing (that rat he skinned and disembowled last week!). Ragnar being a cunning sort, may have made a strategy with his family to play along -- meaning Rollo, Lagertha and Bjorn -- I kind of think Floki's antipathy is real though. And then, gut. Ragnar's got his own men, his ex-wife's men, his son and his brother at his back. Horik's only got his own creepy son, as well as his own men, of course.
Бессильный Пилат клянет на латыни провинциальную Иудею.
Плачет по рабби, забившись в угол, Петр, отрекшийся, но не предавший.
Братья апостолы бродят по улицам, шепчутся тихо о дне вчерашнем.
Храм Господень по случаю праздника заполонили торговцы с братками.
В имперской политике - без перемен, и так, вероятно, будет веками:
Дранг нах аллем и бремя римлян от Лондиния до Данубы.
Только вот Савлу из города Тарс снится дорога в Дамаск - к чему бы?
От осины к осине бредя, Иуда себе не находит места.
Синедрион - и тот не молится. Шаббат, а стало быть, сон, сиеста,
Как и предписано тем Заветом, который уже оказался ветхим.
В чащу уходит отряд зилотов, тихо хрустят засохшие ветки.
Все как всегда: суета внизу, а с неба Яхве взирает строго.
Мало кто вообще заметил, что день оказался вовсе без Бога.
Еще не попрана смертию смерть.
Еще никто ничего не знает.
"Хватит рыдать, - говорит Мария. - Прорвемся, слышишь?"
И Петр кивает.
(c)
angels_chinese
Настала суббота. Тела казненных сняли с крестов и куда-то дели.


Then about a half an hour later there was a blue heron and a red bellied woodpecker.

I. Love. Birds.
Yesterday afternoon R and I got to watch a Cooper's Hawk hunting on the meadow and next to the bird feeder. It definitely caught something just over the lip of the hill next to my window. It was there long enough to watch flying back and forth and landing on a birch tree. Niiiiice.
Current Location:

home

Current Mood:

existential

Current Music:

Welcome to the Canteen.
За глубокой ночью истязаний, подлых издевок и покиваний, для всех этих нищих духом виднелось царство лучей и свободы...
С своей стороны, и Порфирий Владимирыч, с не меньшею аккуратностью, с молодых ногтей чтил "святые дни", но чтил исключительно с обрядной стороны, как истый идолопоклонник. Каждогодно, накануне великой пятницы, он приглашал батюшку, выслушивал евангельское сказание, вздыхал, воздевал руки, стукался лбом в землю, отмечал на свече восковыми катышками число прочитанных евангелий и все-таки ровно ничего не понимал. И только теперь, когда Аннинька разбудила в нем сознание "умертвий", он понял впервые, что в этом сказании идет речь о какой-то неслыханной неправде, совершившей кровавый суд над Истиной...
- Всех простил! - вслух говорил он сам с собою, - не только тех, которые тогда напоили его оцтом с желчью, но и тех, которые и после, вот теперь, и впредь, во веки веков будут подносить к его губам оцет, смешанный с желчью... Ужасно! ах, это ужасно!

Щедрина трудно сделать более мрачным, чем он есть, но можно: во МХАТовской постановке "Головлевых" (2005), где главную роль потрясающе сыграл Евгений Миронов, Иудушка плюет в темные небеса и, не каясь, выклянчивает у Бога прощение.
Гончаров в свое время (еще прежде чем роман был дописан) уверял Щедрина, что Иудушка может только дойти до крайней степени гадости и мерзости, но совесть в нем не проснется никогда. Понятно, почему сейчас многих тянет согласиться с Гончаровым - однако великому скептику Щедрину все-таки виднее.
Но, как мы помним, всё равно было поздно - для всех.
Originally published at Scott Edelman. Please leave any comments there.
Last Sunday, ukulele master Stuart Fuchs—aka "Stukulele"—taught the second part of a uke-a-billy workshop at the Episcopal Church of the Ascension in Gaitherburg. I'd missed part one the month before thanks to sleet and freezing rain, which would have prevented me from returning home had I ventured out, but I'd glad to say that due to Stu's ability to convey information, I quickly caught up.
It was very important to me that I do so, because Stu followed up his workshop with an amazing concert, during which the entire class was called on stage to back him up for "Rock Around the Clock" and "Twenty Flight Rock." And I didn't want to let him down!( Read the rest of this entry »Collapse )
The Round House, Louise Erdrich. I loved it. An Indian woman is violently raped on the reservation, and her son, now grown, narrates the story of how his thirteen year old self dealt with it. There's lots about family and friendship and of course Indian legal issues. The relationships the kid has with his friends and family feel really true. I loved it even though it has one of my most hated tropes, kids trying to solve a (potentially dangerous) situation on their own. The descriptions of ghosts and the tales his grandfather tells are perfectly done, and fit neatly into the images of the rez and his world where spiritual and practical things meet. There are many beautiful images of people and Indian lives, like a description of older women dressing up and then dancing gracefully at a pow wow.

Not sure what I'm going to read next. Probably the mystery I mentioned in my last post.
I finished
Dear users,
As you might have heard, a major vulnerability in SSL (the secure channel used for HTTPS) has been detected recently. As many as two thirds of internet sites were affected, including social networks and major web sites.
We are happy to confirm that LiveJournal is not vulnerable and has not been affected at all.
Meanwhile, in the past 12 months we have been working hard to deploy many security features to protect user data.
Nevertheless, even though LiveJournal was not affected by the Heartbleed bug, changing your password is still a good idea, especially if you use similar passwords on other sites whose data may have been compromised. If you haven't
changed your password
in the last year, we recommend that you do so now.
re-inhabit
almost completely what it felt like to be young in the decade when my favorite music was born. I dare say that if I hadn't discovered Traffic in 1967 I wouldn't have fallen in with the Grateful Dead in 1970/71.
Dear Mr. Fantasy from Welcome to the Canteen is a very shiny version of a beloved song. But then I pretty much never met a Traffic song I didn't adore completely. There's just something about the lilt and pluck of their sound that puts that makes me feel
alright
. This is a reason why watching Steve Winwood and Jerry Garcia play Dear Mr. Fantasy together at Giants Stadium in 1994 from front row dead center is such a prized experience and memory. It was a fine afternoon indeed.
PS. I really can listen to Dear. Mr. Fantasy, Medicated Goo, Shanghai Noodle Factory and Withering Tree ALL DAY LONG. Oh ok, I can really listen to Traffic ALL DAY LONG.
PPS. Here, have a link for Traffic playing Dear Mr. Fantasy in 1972.
Steve
.
http://m.youtube.com/watch?v=xT4-iBuDw0Q
It is possible while listening to my Traffic playlist to
Current Location:

home

Current Mood:

happy

Current Music:

Traffic: Dear Mr. Fantasy.

(Нил Стивенсон. REAMDE)
Джон с Элис и их адвокаты вели себя абсолютно разумно, но Ричарду казалось, что городской совет хоббитов составляет проект резолюции, где первый и основной пункт – потребовать извинений от назгулов.
I started reading her poems and essays when I was new to living in the country, new to having a horse to take care of and a dog to train, new to the post-hole digger and the fencing pliers, to thinking about drainage, to making compost. Maxine Kumin wrote poems about these things that made me say yes, that.
The Excrement Poem
This entry was originally posted at http://boxofdelights.dreamwidth.org/245301.html. Please comment there using OpenID.
Maxine Kumin died this year. I didn't know that. She is not mentioned in The Oxford Book of American Poetry, Chosen and Edited by David Lehman. Was she not highly regarded?